Sponsored Review
Soooo, look what arrived in my mailbox?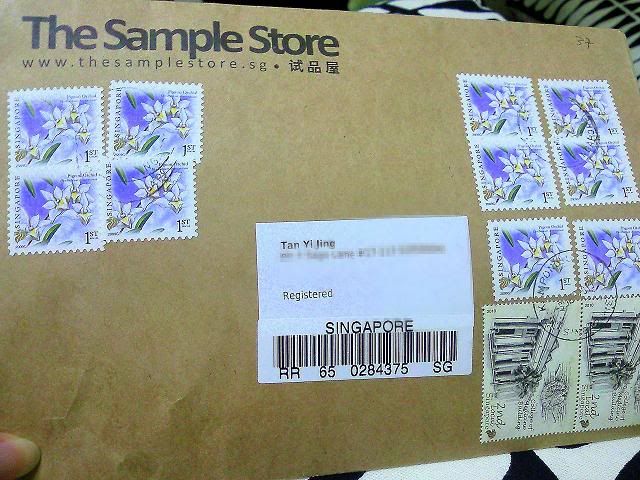 They are masks from Dress Me sent to me by TheSampleStore to review!
Ever felt like your skincare regime was lacking something?? Some sort of deep pampering and nourishing for your skin? Let me introduce something good to you.... Dress Me!
Dress Me is actually a brand that produces masks. Ranging from "Oil Control & Purifying" masks to "Whitening and Brightening" masks, it is a skincare brand that lets you have what you want. If you are someone like me, who's always lazy to keep up with the habit of sticking to a constant regime everyday, this type of deep nourishment for your skin is exactly what you need!
I've always been obessed with masks, since they're so handy and simple to use, (just open, use, and throw. No fuss, no hassle) such that even before i finish the masks i own, i always buy some more! Just wait till i do a blog post on my stash of beauty products hahaha.
Okay, a little background about Dress Me (extracted from their website www.dressme.com.sg)



Dress Me facial mask series uses the finest and purest quality ingredients extracted from selected plant concentrates. Enhancing your skin care routine, Dress Me is the perfect companion that boosts your natural capabilities to good skin, tailored according
to your skin's needs.



Dress Me facial masks are ideal for common skin problems; skins that are dehydrated, oily, pigmented, dull and lost of lustre. The hassle-free skin treatment takes only fifteen minutes to complete and is suitable for daily use. The effective and essential natural ingredients used in the masks are found in many skin care products. The ingredients are Natto, Trehalose, Helichrysum Agustigolium, Spriarea Ulmaria, Gigawhite, Ginkgo Biloba and Vitis Vinifera (Grape) Fruit.



Dress Me facial masks do not just solve skin problems; they also maintain skin's own natural restoration processes. Dress up in Dress Me for rejuvenated, healthy and flawless skin!
Their products include:


• Soften & Clarifying Mask (Clear. Moisture. Revive)


• Moisturizing & Refreshing Mask (Clear. Balance. Revitalize)


• Silky & Soothing Mask (Clear. Moisture. Soften)



• Oil Control & Purifying Mask (Clear. Moisture. Refresh)


• Whitening & Brightening Mask (Clear. Moisture. Tighten)


• Whitening & Revive Mask (Clear. Balance. Restore)


• Revitalizing & Firming Mask (Clear. Balance. Renew)

I think they changed the packaging that's why we got ones that look different.
We, the bloggers/reviewers, got to choose 3 masks of our choice and the ones i chosen were the "Whitening and Brightening Mask" (I'm obessed about whitening), "Whitening and Revive Mask", and "Revitalizing and Firming Mask" (Firming = smaller face! hahaha).
Dress Me Whitening & Brightening Mask
contains effective skin whitener, Gigawhite that reduces age spots and inhibits pigmentation and has skin-barrier functions. The mask contains Ginkgo Biloba that increases blood circulation and collagen-boost to slow down skin aging process and protects skin from free radicals. It has anti-inflammatory, anti-allergenic, anti-bacterial and anti-oxidant properties that whitens the skin and also reduces redness and skin sensitivity.
More details of the products and their ingredients can be found on http://www.dressme.com.sg/products.php (:.
Today, my review will be on the
Whitening and Brightening Mask
, which I have on right now.
I can feel a tightening effect which i don't feel from often from the previous masks i have used before (perhaps from the collagen). The mask has a nice light smell, and is of an excellent quality. Its thick material makes me believe that it is able to soak up more of the essence and therefore work better on my skin hahaha. I've tried on some masks that are really lousy (in terms of material and effect) and this is obviously not one of them.
Wanna read more?
Read my full review on my askCLEO blog (banner on the left) or simply click
HERE
Now, time for the goodies!!
For you, my readers!!
Wanna get your hands on a box of Dress Me's masks? Dress Me is holding a contest on their Facebook page,
http://www.facebook.com/pages/Dress-Me/153684001343895, that is open to you!

All you have to do is........... post reviews of the face mask!
3 winners with the best reviews will be selected weekly.
Dress Me Best Review Contest
Submission period:
15/12 - 21/12
22/12-28/12
29/12- 4/12
5/12 - 11/12
Take a picture with Dress Me Facial Mask contest

- Submit 2 pictures onto Dress Me Facebook Contest Page (1 with the mask on your face, and 1 showing your face and the type of mask you are using)


- Contest submission: 17 dec - 22 dec

- Contest voting: 22 dec - 5 jan


- 10 bloggers that has garnered the most number of likes get to win a Dress Me Hamper :)

Thinking about getting the masks for personal uses or simply getting it to take part in the contest? Here's where you can get them!
1.Retailing at http://www.thesamplestore.sg/product/tag/14050/most_recent/0/sale (you can become a member HERE)
- 50% off all dress me mask
- Buy any 5 pieces of Dress Me mask and get 1 Dress Me Moisturizing & Refreshing Mask free
- Buy any 35 pieces of Dress Me mask and enjoy free delivery + 1Dress Me Moisturizing & Refreshing Mask free



2.Retailing at SaSa
- Purchase 2 pieces of Dress Me mask and enjoy 20% off
- Purchase 1 box (5 pieces) of Dress Me mask and enjoy 50% off