Sponsored Review
Feeling that your skin is lacking intensity, or noticed that your jawline is no longer as defined?
Then boy, do i have the products to rescue your aging skin!
Really loving the girls at Lush Group too because they also just sent me a couple of boxes of masks to review. They're from Sexylook,
and is Taiwan's best selling 3D Duo Lifting Mask!
I was sponsored with the Red Wine x Platinum
and Aloe Vera x Q10 ones to try out.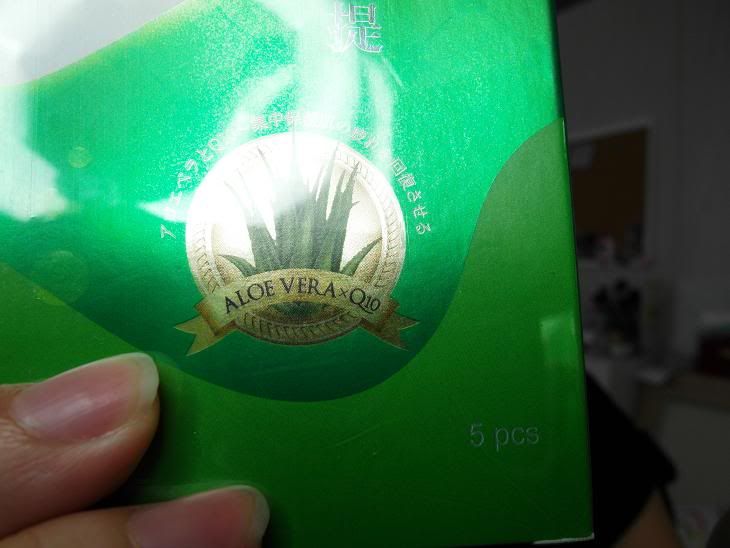 Similar to how the
Love More
masks works,
Open up the packet
Essence filled goodness!
Unfold the mask.
The mask is of a thinner, finer, and smoother material than the Love More ones, but it holds up the essence really well!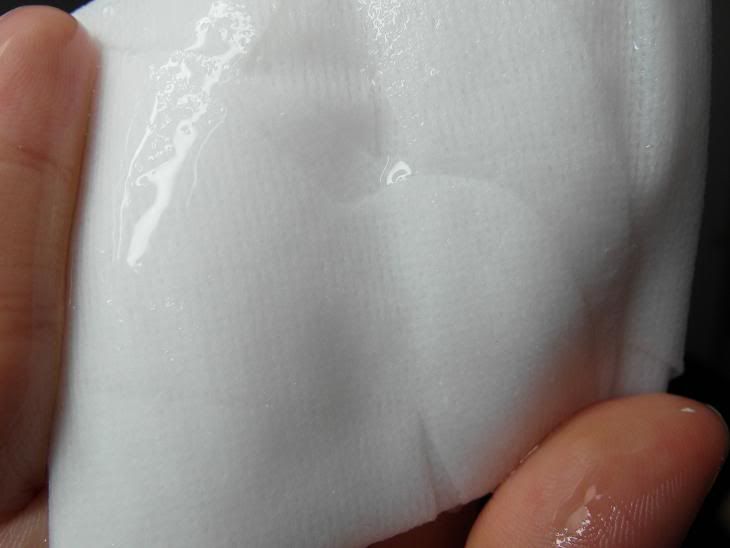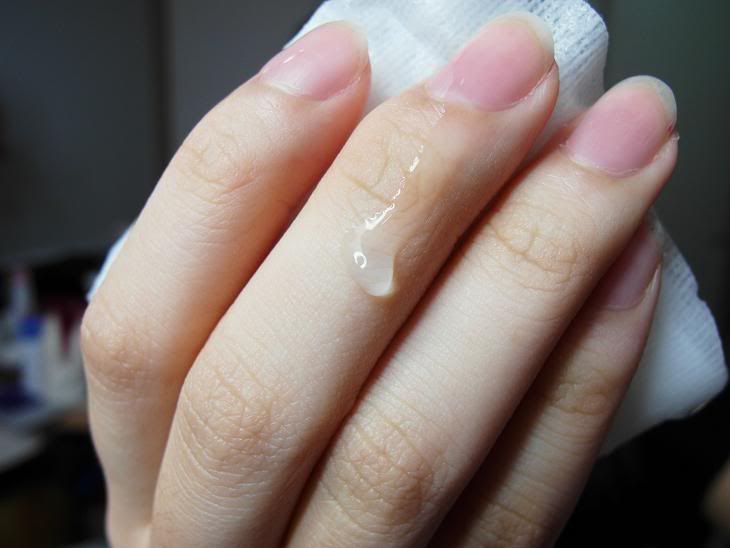 Light liquidy essence flowing down!
Lay the mask on your face

Pull the earhooks over your ear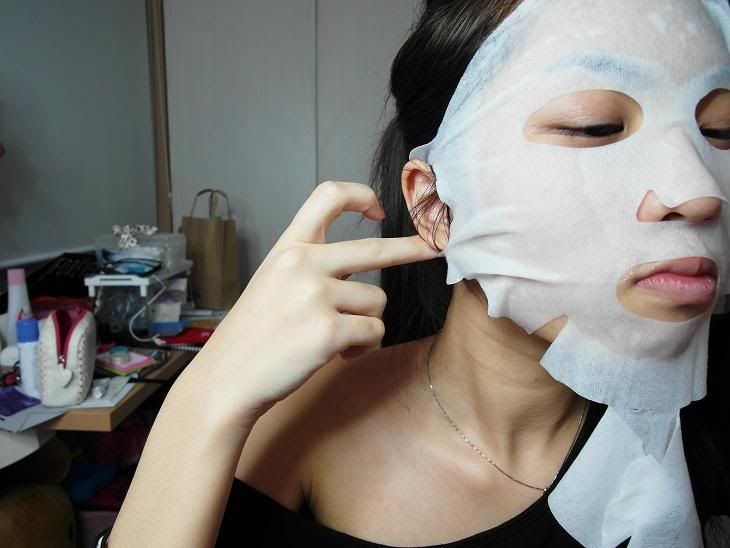 Fit the mask properly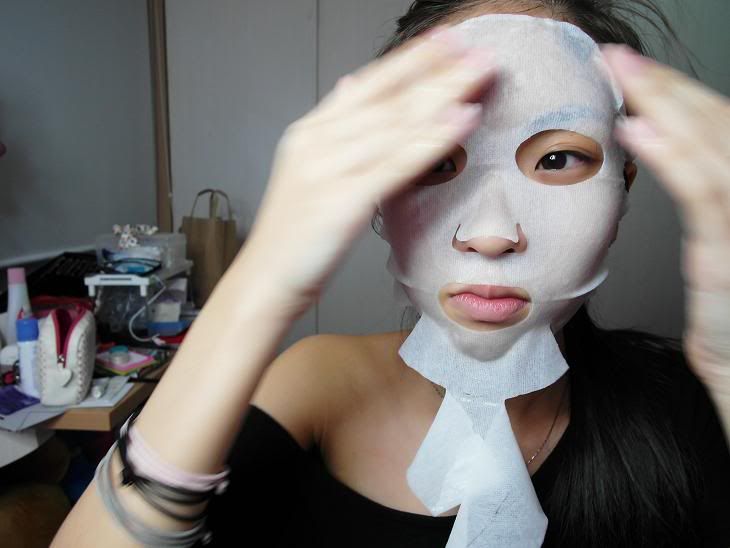 Pull up the neck piece's earhooks over your ear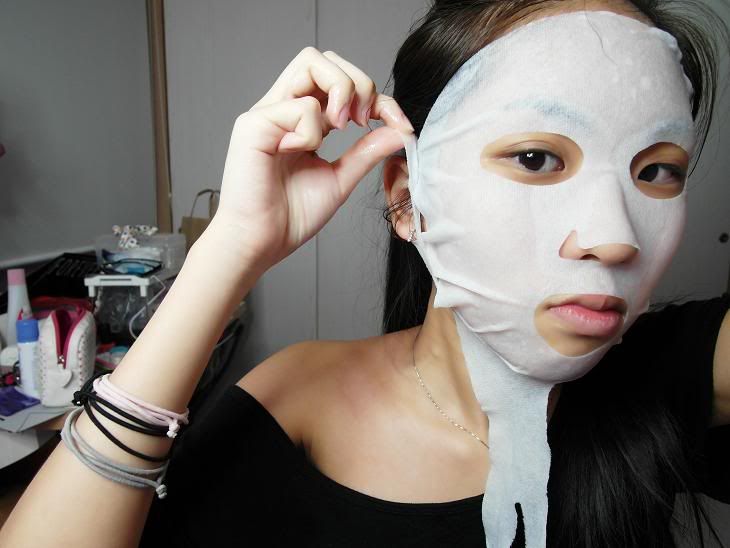 It should then look something like this
You can massage your face while the mask is on to increase blood circulation and allow the essence to be absorbed more quickly!
I really liked that the fit of the mask was really really good. Even better than the Love More ones! It adhered to my skin really nicely, and even fit into the contours of my nose! (Please pardon my siao zabor hair)
Red Wine x Platinum

(Also known as the Back To Youth 3D Mask)
Contains phenols, vitamin C, and many healthy nutrients and antioxidant to enhance the skin's elasticity and firmness with flexibility. This 3D Lifting Mask with ear hooks fights against gravity and lift up the skin at your neck, mouth cheek and eyes areas.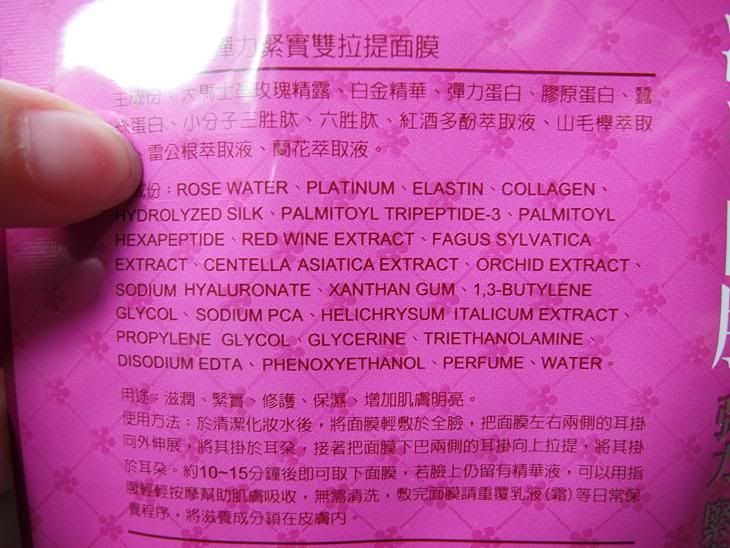 See how the main component of the mask is rose water? No wonder the mask smelled so good! And since collagen is 4th on the list, I'm guessing there's plenty of it too. However, since it contains perfume, it won't be that great for people with really sensitive skin.
What i liked about it was that my skin did in fact feel a lot better than it did before the mask : smoother, brighter, firmer, and more hydrated. The mask comes packed in a packet filled with essence and when you squeeze the mask, you can immediately see the amount of essence that flows out. The essence is really light and clear, in between a gel-y and watery consistency (which is just perfect. Not too thick, nor too thin) and smells really good. It absorbs into the skin very quickly and when you wet your face the following morning, there is no residue from the mask (which is a sign that the essence is fully absorbed into your skin)
Essence: 5/5
I can't express how much i
love
the essence. It smelled great, it worked great, and it absorbs really well into the skin. I really enjoyed the scent of the mask. It was not as sweet as Love More's, and was really soft and soothing.
Fit/cutting of mask: 5/5
The mask fit my face really well, and stuck down to the contours of my face!
Material of mask: 5/5
I liked this material a lot. It was thin, but it managed to absorb a great amount of the essence! The mask is really fine and smooth too, and it felt wonderful on my skin.
Packaging: 3/5
I'm sorry to say this, but this is definitely something that i would easily pass up on if i didn't do my research and buy it based on packaging. The packing is really simple and minimal, but i would definitely prefer something cute like Love More's.
Effect of the mask: 4/5
The mask did a really good job of tightening, brightening, and hydrating. However, just like all firming products, maintenance is is required. The effects don't last for long (around 3 days?) but its good enough.
Affordability: 5/5
Going at only $8.80 for a box of 5 (introductory price of $7.90, but i'm not too sure whether its over yet), this is definitely something i can afford to keep on repurchasing!
Overall: 4.5/5
Now that i've tried it, I'm proud to say this is something i will definitely repurchase and it has taken the top spot and is now my favourite mask! I can't wait to try out the other ones (and post the review on the aloe vera x Q10 one) and i've already gotten my eyes on the super whitening one hehe.
Get your hands on them now!

* Exclusively at Guardian and www.secretive.sg in June
* Introductory Price: $7.90, 5 pieces in a Box
* Usual Price: $8.80, 5 pieces in a Box
* Sexy Look masks are available exclusively at Guardian. Visit www.secretive.sg for more product information.
P/s: Please join
Lush Beauty's Facebook page
and
Sexy Look Singapore
to stand a chance to win a box of their masks!