Was invited by
Louisa
to attend a beauty talk by Judy Lin
林叶亭老
师
, one of NRWZD(
女人我最大
(Lady First))
's famous celebrity fashion and beauty stylist! There were two slots of the event, both showcasing and talking about different type of products, but i only managed to turn up for the 3pm slot because I had lunch with the family before the event.
*picture heavy post*
Shills sticker to recognize us as bloggers (hehe).
Slimming segment
I arrived late, just a little after the 2nd session started. I arrived after Judy Lin measured the demonstrator's arms and applied the cream, and covered it with cling wrap.
After a few minutes, they removed the cling wrap and took "after measurements" for the model's arm. She immediately lost 3cm! This is due to the fact that women tend to retain water (also caused by salty diet) and this will help you get rid of water retention!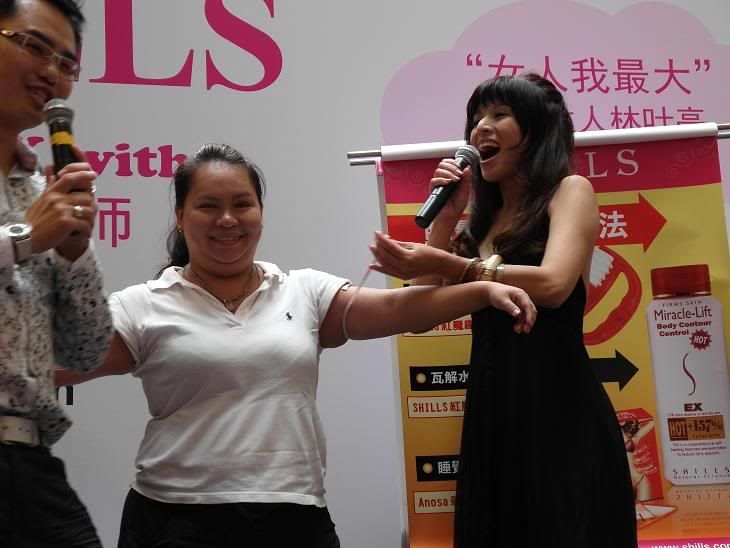 Elated because initially they were going "what if she ends up not losing any cm's" but she ended up losing 3cm hahahahaha.
Next up is the
Anosa Slimming Patch
Showing you how to stick the patch for optimal effect:
*cut it into strips and stick in a spiral on your tummy, and in a cross on your arms!*
Fold it up and cut one piece into three strips..
And you will get a spiral from the patch on your tummy! Domo says the patch is super itchy, so i'm guessing quite a bit of tolerance is needed.
As you can clearly see, this is not something that's only for girls! Guys troubled with problems like beer belly or spare tire can use it too (:.
Pore Cleansing
For pore cleansing, which is very important for teenagers, Shills has an entire range of skincare products catered especially for it too! Its a 4 step regime, but not all products are to be used daily. They also help with teenage skin because they use bamboo charcoal, which is a natural cleansing material!
For those who have difficulties reading the chinese words, I'll do my best to translate them for you.
Step1: Soften. (Soften the black/white heads for easy removal)
Step2: Removal (In this case, my "plucking" them out)
Step3: Tighten (Tighten your skin and close up the open pores)
Step4: Whiten (My favourite! This will not only ensure your skin is clear and smooth, but also fairer and more transluscent)
Step1:
Massage the gel onto your skin to soften the blackheads, whiteheads, and clogged pores
Step2:
Rinse off and apply the purifying peel off mask. (This is to remove the softened black/whiteheads and dirt, and tiny facial hair)
Wait for the mask to dry completely before peeling
Due to time constraints, they already did the steps on another volunteer before this demonstration began!
Peel off the mask in the same direction as where your pores are facing. This will ensure that all the white/blackheads and dirt can be removed effectively.
The chin piece:
You can see the little bits of facial hair! No need to go for threading already!
And the scary nose piece!! DO YOU SEE ALL THE HUGE WHITE BITS?
Can you imagine. ALL THESE COULD HAVE STAYED IN HER PORES ON HER NOSE!! AHHHHHHHH.
From deep inside her pores!!
Scary!! I can't imagine peeling off my pore packs and looking at this! Although, my nose will be squeaky clean from deep within!
Step3:
Apply the toner using a soaked cotton pad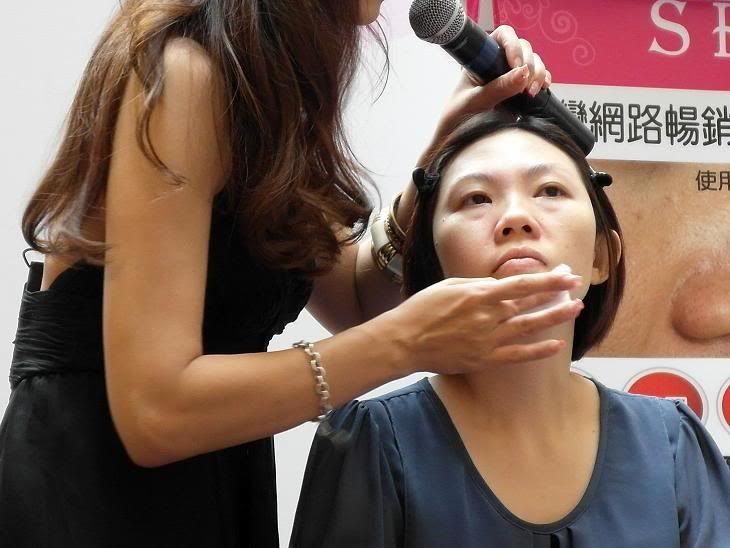 Step4:
Whitening Mask Sheet
Anti Aging
The star ingredient of the range of products is that it contains Gold Nanoparticles. We all know how good gold for our skin, and that gold has the ability to stabilize our skin!
Step1: Cleansing oil
Step2: Serum
Step 3: Moisturizer
Step1:
Cleansing oil
This cleansing oil is made using 100% plant extracts and completely emulsifies with water!
Unlike some cleansing oils which form a layer over water, this cleansing oil is able to emulsify immediately upon contact with water.
Step2:
Serum
Some of the active ingredients:
Can you see the tiny bits of gold in the serum?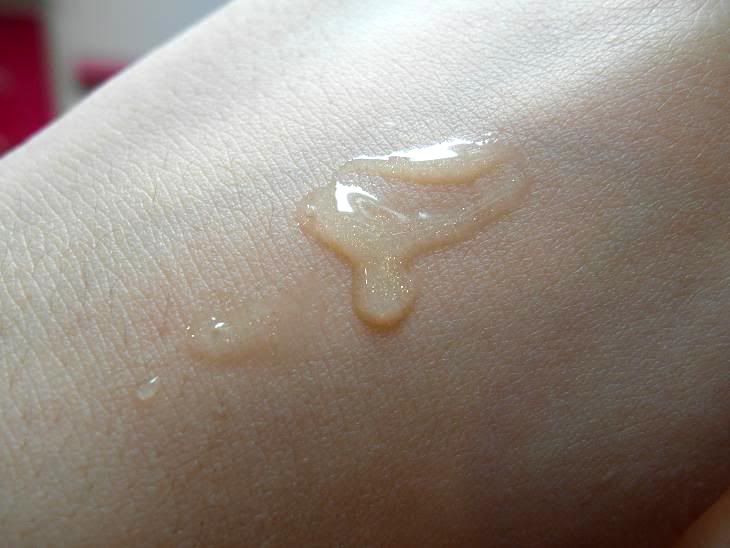 After blending out:
Even though initially i thought it looked quite thick, but looks are indeed deceiving. When i started blending out the serum, i thought it felt really light and absorbed much more quickly than i thought it would.
Step3:
Moisturizer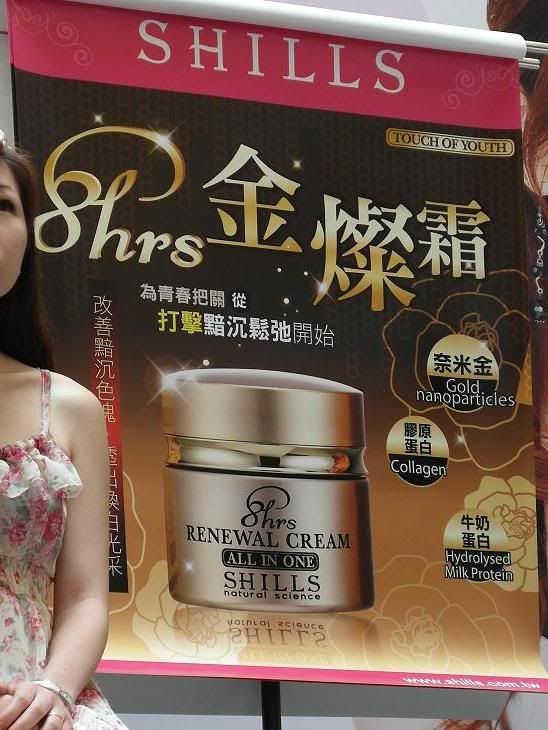 After spreading:
The gold bits aren't too apparent in the picture, but they are present.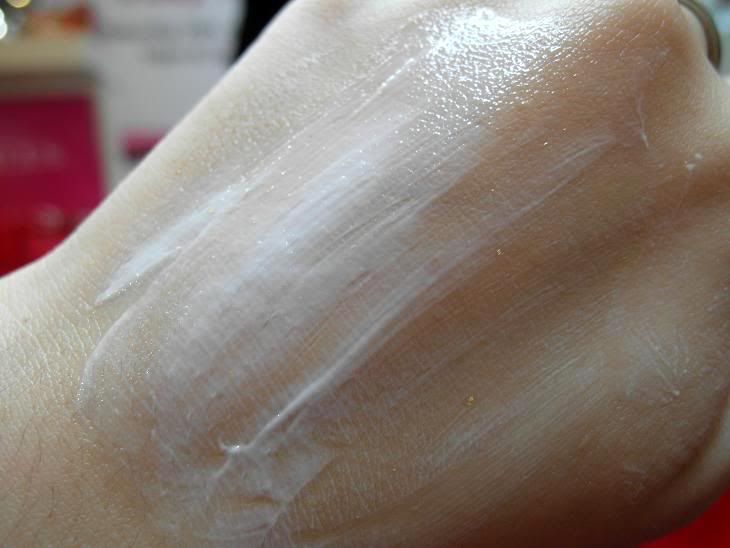 Just like the serum, the moisturizer does look quite thick but it isn't and it absorbs into the skin quickly.
After application of the 3 products, a way to boost circulation for your skin is to give yourself a "Gua Sha" massage! Here's Judy Lin demonstrating how to do it!
She says she does it on her skin daily! Maybe that's her secret for looking so young!
They also have gold mask sheets! For full face and under eye (:.
Unlike typical mask sheets, these masks actually use some gel-like material! I remember i tried them before this talk, and they were really good!
Some main ingredients:
The masks have more than one use! After using the mask on your face, you can put them into your bath water (and the mask will dissolve completely!) and you will have a tub of bath water with gold essence! See how it dissolves immediately!
For those without a bath tub, this makes a good hand/feet soak too!
The talk ended after this segment, and Judy Lin lao shi was presented with a bouquet of flowers. (I really really loved her dress btw hahahahaha)
Thank you Louisa, Beauty Bistro and Sasa for inviting me to this event. I really learned quite a bit (the gua sha especially!) and I can't wait to try out the products! The products are available at Sasa stores and @ Beauty Bistro.