Last Tuesday, Ning (my sister) and I actually went out on a shopping day together. It ended up failing really badly because not only did we not buy a single piece of clothing, which was our initial reason for going shopping, we ended up spending a huge amount on food! A good $80++ on the both of us for the whole day.
NOT.A.

SINGLE

.PIECE.OF.CLOTHING FML.
So we started out at Bugis (Duh, i mean its so predictable right) because i wanted tons of new clothes within a budget. At Bugis, I'd naturally be able to get it cheaper than sold at Far East etc etc. So yes, that was our first stop.
We went up to Iluma to look for some place to have lunch at and we settled for The Asian Kitchen.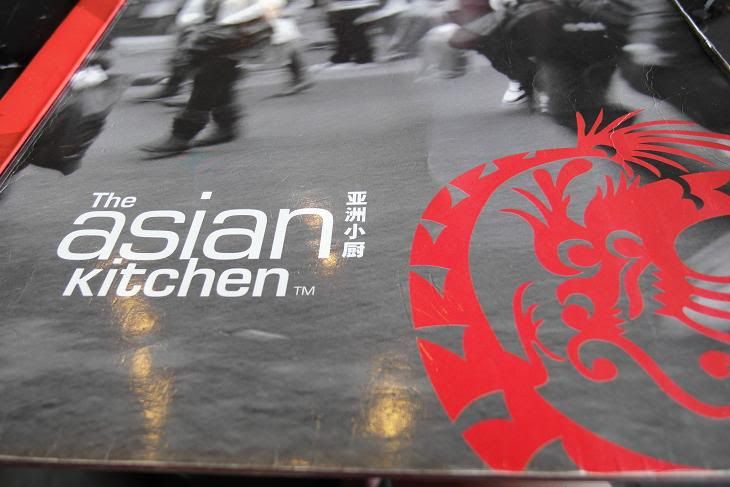 The menu didn't look really tantalizing expect for their Original Crispy Skin Chicken
(i kinda forget what it was stated as on the menu) so we both had a serving of that with plain rice.
And it was really good! I love chicken skin, but only crispy ones! This fits the bill! Also, the sugar+salt+chilli flake dipping was soooo good! Thinking about it makes me hungry again!!
And here, my sis making her almost-debut appearance on my blog!
Wait for it....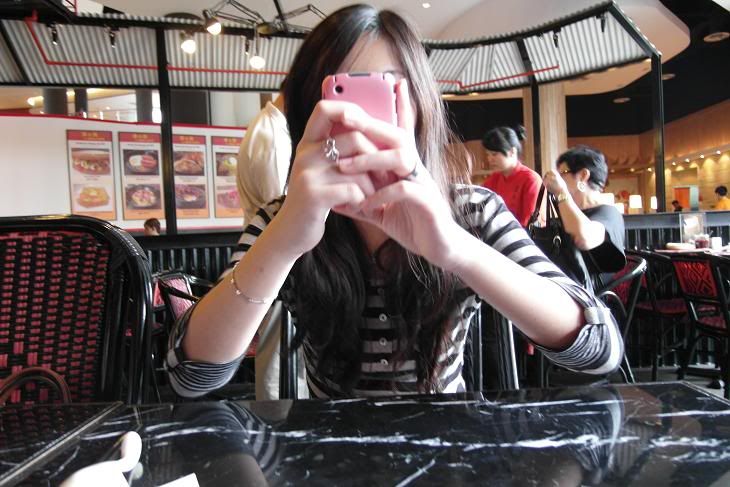 WAIT FOR IT....
TADAH!
Growing up, we were always told that we looked alike and were always mistaken for twins. What do you guys think??
After roaming through the streets of Bugis, we headed to Vivo to continue our hunt for clothes.
And in the end, we
still didn't get anything
FMLx2
But instead, before going home, we went over to Giant to get food. Shitake Mushrooms, Japanese Scallops, Real Crab Meat, Chicken Stock, Fish Maw Soup (the canned kind) and some other stuffs i cannot remember.
Now you know why we spent so much.
We then headed home to make..............
CHAWAMUSHI.
With the shitake mushrooms and real crab meat! Also fried up a few scallops.

And the boy who was out, came specially over to my house to eat the good food!! Smart right! This was his chawamushi with a K lined with crab meat. Oh yes, i also bought some tobiko!
Didn't take pictures of the process of making the chawamushi (too busy, no hands to use the camera) nor any of the scallops. Now let your mind run wild tryna picture what they looked like. And it all tasted AWESOME muahahaha
--------------------------------------------

My purple floral nails! Completely DIY-ed-and-DIY-able.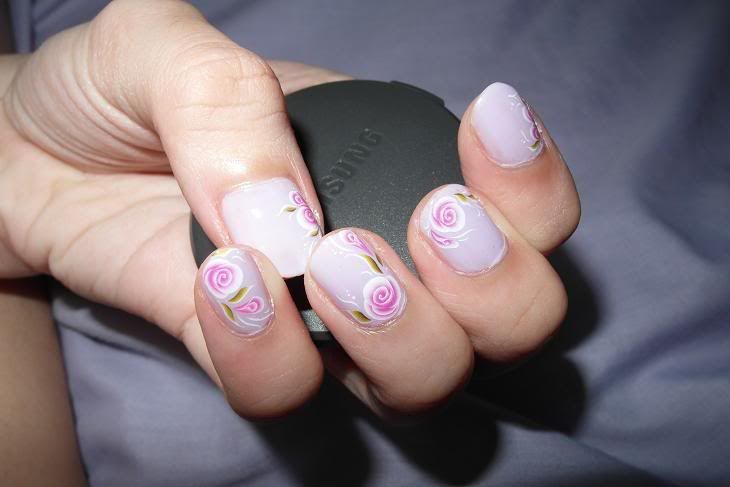 Awkward fingers, IKR.
Thinking of redoing this design for when i go overseas. But if it chips overseas I'll have ugly nails FML. Decisions decisions..
Oh yes, that was the nail polish i got from the Flea. Colour is RUMPLE'S WIGGIN and the colour looks a tad lighter than the following picture.
Love doing my nails with fancy designs hahaha, makes me feel girly-er!