(This was a post i had on my 8flo blog before, but not on my own blog, so here it is. This is not the updated one, and i'll be posting an updated one, with new stuffs and because i threw away a couple of stuffs, another day)
Being the vainpot that I am, of course I have my very own stash of makeup. Everything is *ahem* neatly *ahem* tucked into a little corner on the shelf i have next to my bed, which is on my wall. Since it was such a small shelf that couldn't keep up with my growing makeup collection, I went to Daiso earlier this month to get containers to keep them in. Each container has a category (Primers/Concealers, Liquid foundations/BB creams, Pressed/Loose Powders, Blushers/Bronzers, Eyeshadows/Brow powder/Falsies/Gel Eyeliners, & Mascaras/Eyeliners/Brown Pencils)
ALL STASHED HERE...
I'll start with my makeup brushes.
Of course, there's my recently bought Costal Scents 18Piece Brushes
Then, my E.L.F Brushes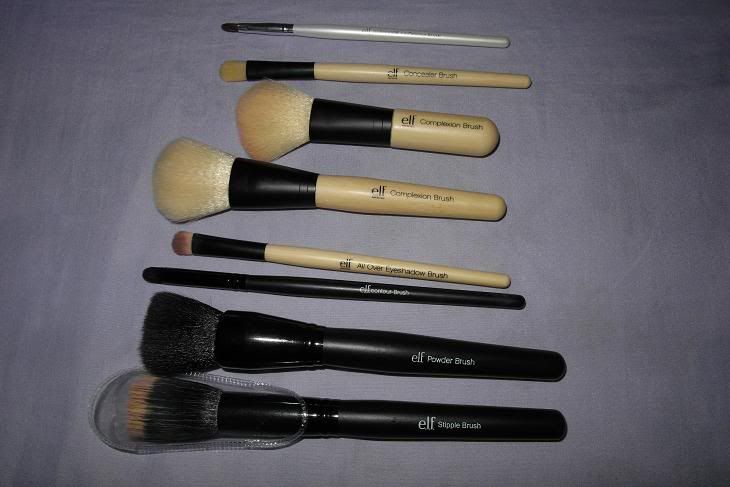 Black ones are from ELF's studio line, the White one is from their normal line, and wood ones from the mineral line.
From top to bottom:
1. Professional Lip Defining Brush
2. Concealer Brush
3. Complexion Brush (Travel Sized)
4. Complexion Brush
5. All Over Eyeshadow Brush [This is a dirty brush because I haven't washed it, therefore the brown coloured bristles)
6. Contour Brush
7. Powder Brush
8. Stipple Brush
M.A.C Brushes (Last Brush is from Sigma)
Use of brush available on M.A.C website.
Top to bottom:
1. M.A.C 217
2. M.A.C 239
3. M.A.C 252
4. M.A.C 150
5. M.A.C 138
6. M.A.C 130
7. M.A.C 190
8. M.A.C 116
9. M.A.C 169
10. Sigma F05
Primers/Concealers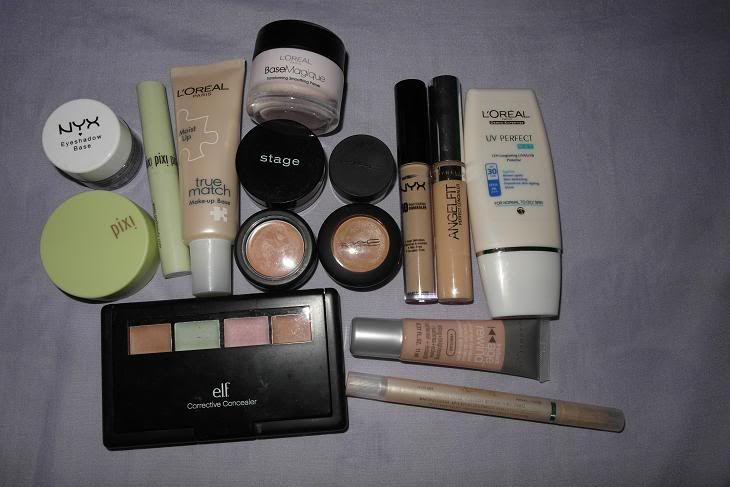 From left to right, top to bottom:
1. NYX Eyeshadow Base w/ Pearl
2. Pixi By Petra Instant Brow Lift
3. L'OREAL True Match Make Up Base (Moist Up)
4. L'OREAL Base Magique Transforming Smoothing Primer
5. Pixi By Petra Eye Bright Kit No. 3
6. Stage Pro Creme Camouflage in Sand
7. M.A.C Studio Finish Concealer in NW25
8. MYX HD Photogenic Concealer in Beige
9. Maybelline Angelfit Perfect Concealer in Light Beige
10. Make Up Shop Creamy Concealer in NW25
11. M.A.C Studio Finish Concealer in NC35
12. L'OREAL UV Perfect in MAT
13. E.L.F Corrective Concealer
14. Maybelline Instant Age Rewind in Fair
15. L'OREAL Touche Magique Anti-Fatique and Illuminating Concealer
Liquid Foundations/BB Creams
Top to left, bottom to right:
1. Bio-essence Bio Multi-Effect BB Cream
2. BRTC Glamorous Sparkling BB Cream
3. Sasa HD Perfect Foundation
4. Revlon Colourstay in Warm Golden
5. E.L.F Flawless Finish Foundation in Sand
6. Elisha Coy Always Triple BB Cream
7. Elisha Coy Always Nudy BB Cream
8. Elisha Coy Diamond Shiny Pearl BB Cream
9. M.A.C Studio Sculpt in NW25
Pressed/Loose Powder
From left to right, top to bottom:
1. Revlon Colourstay Pressed Powder in Light/Medium
2. Maybelline Pure Mineral Healthy Natural Powder Foundation in Light Ochre
3. E.L.F High Definition Powder
4. M.A.C Studio Fix in NC25
5. M.A.C Lightful in NC20
6. L'OREAL True Match Powder Foundation in Nude Beige
Eyeshadows/Eyebrow Powders/Gel Liners
From left to right, top to bottom:
1. L'OREAL HIP Bright Eyeshadow Duo in Flashy
2. L'OREAL HIP Bright Eyeshadow Duo in Showy
3. ZA Eyes Vibrante in E9
4. Maybelline Gel Eyeliner in Brown
5. Maybelline Gel Eyeliner in Black
6. E.L.F Cream Eyeliner in Black
7. L'OREAL HIP Bright Eyeshadow Duo in Flare
8. L'OREAL HIP Bright Eyeshadow Duo in Adventurous
9. IN2IT Eyebrow Shadow in Striking
10. NYX Eyebrow Cake Powder in Taupe/Ash
11. NYX Nude on Nude Natural Look Kit
12. Lancome Colour Focus Duo in Round Midnight
13. M.A.C Falsies in M20
14. M.A.C Falsies in M19
15. The Body Shop Eye Trio Shade in Sundown Glow
Mascaras/Eyeliners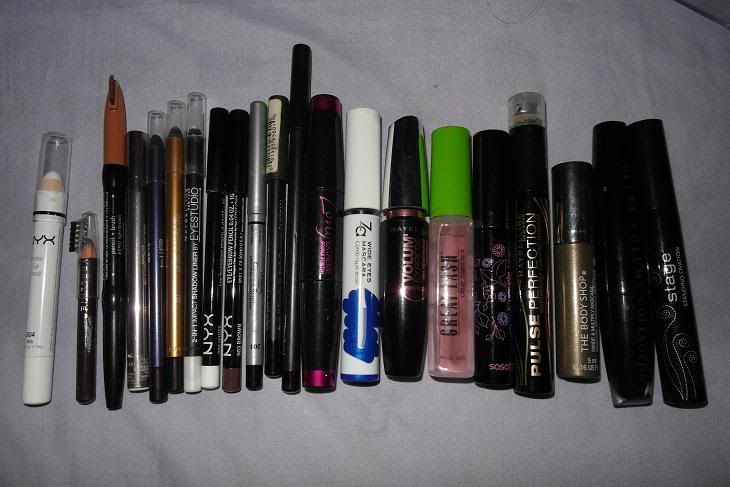 From left to right:
1. NYX Jumbo Pencil in Milk
2. Maybelline Unstoppable Brow Pencil
3. NYX Auto Eyebrow Pencil in Light Brown
4. K-Palette One Day Tattoo
5. L'OREAL HIP Colour Chrome Eyeliner in Violet Volt
6. L'OREAL HIP Colour Chrome Eyeliner in Gold Charge
7. Maybelline Eyestudio 2-in-1 shadow liner in Silver
8. NYX Eye/Eyebrow Pencil in White
9. NYX Eye/Eyebrow Pencil in Brown
10. L'OREAL Contour Resist Automatic Liner in Black
11. L.A Girl Eyeliner in Black
12. M.A.C Eye Kohl in Smoulder
13. Maybelline Long Extreme Double Stretch Mascara in Black
14. ZA Wide Eyes Mascara (Comb type brush) in Blue
15. Maybelline Volum' Express Waterproof Mascara in Brown
16. Maybelline Great Lash Clear Mascara
17. Sasatine Dolly Eyes Mascara in Black
18. Maybelline Pulse Perfection Mascara in Black
19. The Body Shop Divide and Multiply Mascara in Black
20. L'OREAL Ultra-Volume Collagene Mascara in Black
21. Stage Standing Ovation in Black
Blushers/Bronzers
From left to right, top to bottom:
1. The Body Shop Roseflower Blush in Pink
2. E.L.F Powder Blush in Shy
3. M.A.C Powder Blush in Well Dressed
4. Maybelline Dream Mousse Blush in Rose Petal
5. L'OREAL True Match Blush in Grapefruit
6. ZA Blush Vibrante in B3
7. E.L.F Cool Bronzer
8. Forever 21 Bronzer
Lipstick/Gloss/Balm
1. Nivea Lip Care in Velvet Rose
2. L'OREAL Made for Intense in Intense Fuchsia
3. NYX Lip Smacking Fun Colours in Strawberry Milk
4. NYX Lip Smacking Fun Colours in Circe
5. M.A.C Lustre Lipstick in Shy Shine
6. ZA Pure Shine Lips in Pretty Pink
7. Stage Wonderluxe Lipstick in Pastel Posy
8. Stage Wonderlust Lipstick in Audrey
9. Revlon Super Lustrous Lipstick Creme in Pink In The Afternoon
10. The Body Shop Lipstick in 04
11. L'OREAL HIP Jelly Balm in Ripe
12. NYX Mega Shine Lip Gloss in Pink Frost
13. Clinique Glosswear For Lips in Crystal
14. Clinique Glosswear For Lips in Sunset
15. Clinique Glosswear For Lips in Mystic
16. Clinique Glosswear For Lips in Sunshine
17. Sephora Lipglosee in Precious Pink
18. L'OCCITANE Lip Gloss (Honey Miel and Lemon Citrus)
19. E.L.F Plumping Lip Gloss in Baby Doll
20. E.L.F Hypershine Lip Gloss in Pink
21. E.L.F Hypershine Gloss in Fairy
22. E.L.F Hypershine Gloss in Vixen
23. Some random lip gloss
24. Revlon Colourstay Mineral Lipgloss in Everlasting Blush
25. Fasio Full Glossy Lips in Baby Peach