Finally, i'm squeezing in some lifestyle posts!
Last Saturday, we (The TSS group, as named by
Trixy
) were invited by TSS to go for a Bio-essence filming. We all decided to go on the same day at the same time slot so that we could all meet up and go together.
Since Trixy was supposed to go on Friday instead, we made plans to meet up with the other babes at Somerset. It ended up with Michiyo, Domo and HT taking a cab down to *scape and I met TBTS Adeline at Somerset. While waiting for her, i was checking twitter and realised that Trixy also ended up postponing to Saturday! I caught her at somerset and we waited for TBTS to arrive before heading to *scape.
Also saw Larissa there!
First time seeing Michiyo! Cho kawaii. Jealous ):.
Mewants her iphone casing!!
I had like 6 NGs fml T_T. After we finished filming (I
really
didn't take much pictures that day) we started camwhoring!! #shamelessly koped from TBTS.
And the super photobombed Trixy and Domo!!
Our super failed wink shot!! HAHAHAHAHA Trixy must be shaking her head now. Either that or she's laughing it off!
We had "lunch" at AKB48 cafe after filming and once again I'm trying to master Trixy's wink shot!!
Yes Trixy you can slap me nao!
Say Hi to my new friend Alicia!~
If you've been following my blog you would know that I'm not a regular user of falsies. But Dollywink had this LE packaging one that i just HAD TO GET. It's too good a steal!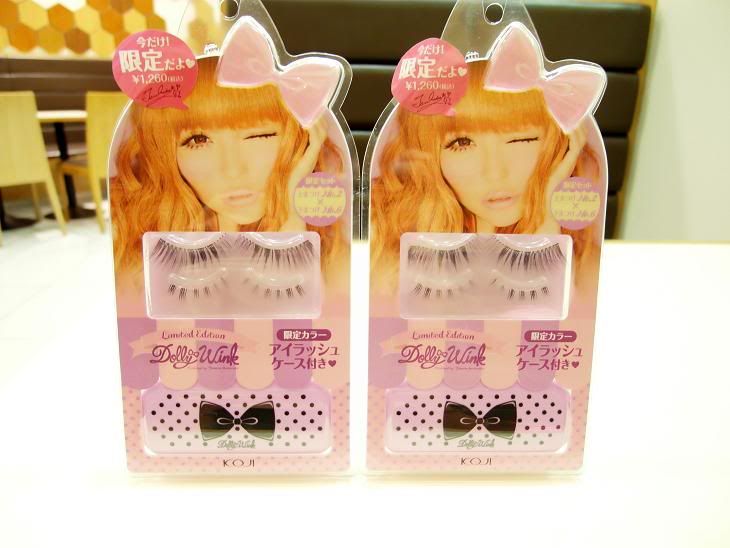 $24.90 for a pair of No.2 and No.6s and a free eyelash case and glue!! Too good to let it pass hehe. Get yours while stocks last! (Vivo's, Tiong Bahru's, Yishun's are
all sold out
already, as far as i know. Last update from Michiyo was that Marina's Watsons is down to its
last box
!)
Also grabbed two packs of random $2 facial wipes (supposedly also gets rid of makeup) so stay tuned for a review after i clear my pending ones!