Sponsored Review
The Sample Store
never fails to shower me with tons of beauty products to review! And most of the time, the products are reallllllly good and i've never had to give them a rating lower than 3! This time round, they're products sponsored by
NuTeen
!
Cleanser, Toner, and Sleeping Mask.
(The whole range smells exactly like Ginvera's Whitening Cream to me, which i think is the scent of green tea??)

Frankly speaking, I don't remember seeing this products on the shelf of Watsons before (since i don't usually browse for acne care products either) so I'm not sure whether this is a new range. However, i think i have seen their advertisements somewhere, so this is probably just a new product in the existing range.
First up in the range (and also skincare routine) is the
NuTeen Acne & Pimples Away Cleanser
.
We all know what good (and bad) cleansing does for your skin, and an example will be it allows your skincare products to be better absorbed into your skin for optimal results. However, this is not just the case. A good cleanser cleanses your pores from dirt and excess sebum - which is extremely important (especially for people with oily/acne-prone skin) because these are the two major factors that lead to pimples and acne!
As extracted from press release:





NuTeen's Acne & Pimples Away Cleanser:


•Specially formulated with Salicylic Acid to fight acne

•Provides anti-bacterial properties to help soothe pimples

• Enriched with Thanakha Extract & Vinegar, two natural ingredients that calm & soothe acne inflamed skin


•Gently & effectively cleanses & removes excess oil & dirt without drying, leaving skin clean & healthy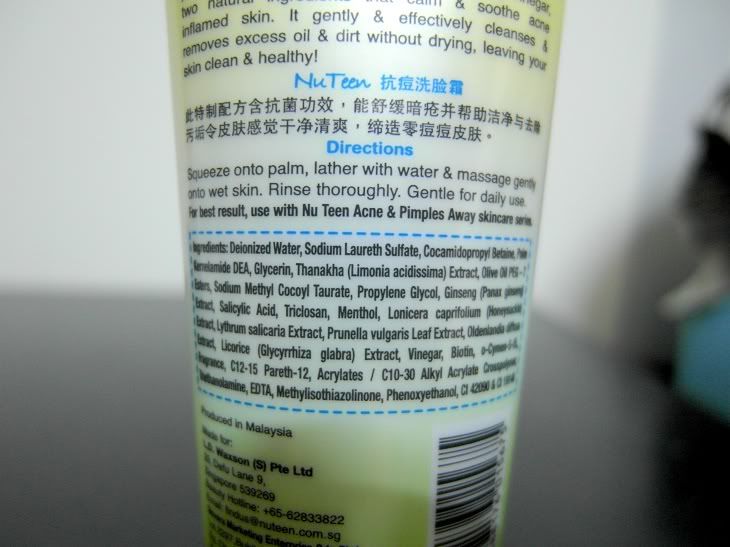 Did you know, Thanakha is also one of the ingredients that will help you to lighten your skin tone? :P. Whitening + Acne Treatment in one tube! However, since it's primary function is to prevent (and get ride of pimples/acne), i don't think the whitening effect of this product will be as apparent as products that aims to whiten your skin.
The cleanser comes out clear and like a gel with a slime-ish texture.
It lathers quite alright, but i am unable to get the type of luxurious foam that i adore with this cleanser. It feels light on your skin even though the foam doesn't last.
The cleanser washes off easily without residue, and does feel like it's overly drying on my skin.
Overall rating: 3.5/5
I felt that the cleanser didn't cleanse as deeply and thoroughlly as i would have liked it to, but it does still do a pretty good job of cleansing. I really liked the smell of the cleanser and the fact that it doesn't sap my skin of moisture, but to be honest, this will not be something i will buy if just based on packagaing.
(RTP $6.90 for 100ml)
Next up, is
NuTeen's Acne & Shine Away Toner
(toners help to remove excess dirt/makeup residue that you didn't thoroughlly remove during cleansing, and help to close and tighten up your pores)



• Contains Salicylic Acid to help reduce blemishes & oil control

• Formulated with Triclosan for anti-bacterial purpose and to keep skin shine-free

• Enhanced with Thanakha Extract for fairer skin, the natural way

• Added with Hazel Extract to help minimize pores

• Helps clear, smoothen & keep skin in its natural pH balance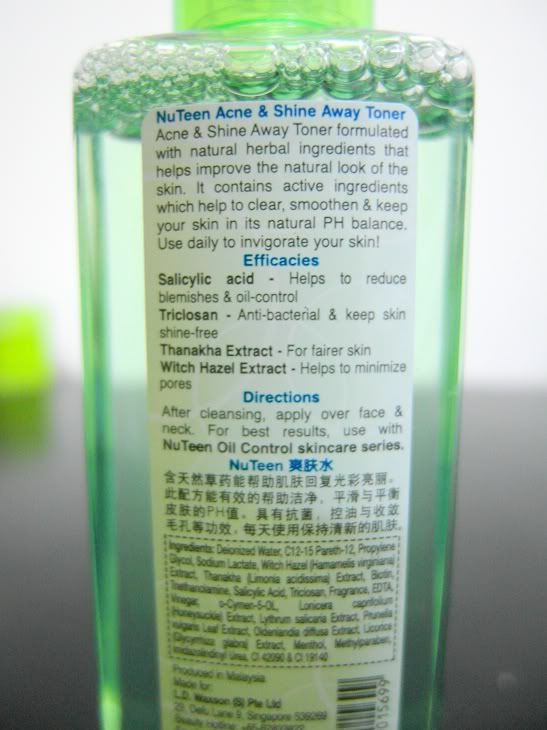 Unlike Hada Labo's SHA lotion, you'll need to use a cotton pad for this.
Dispense a small amount of the toner onto the cotton pad. Probably about a 50cent coin sized?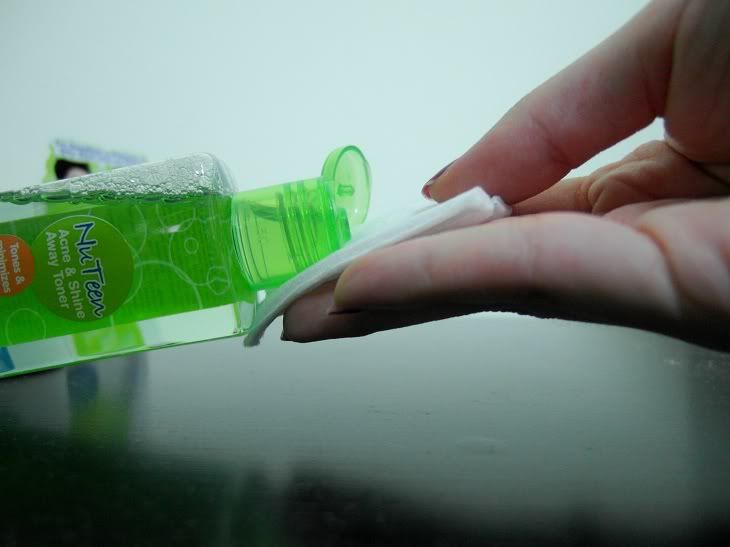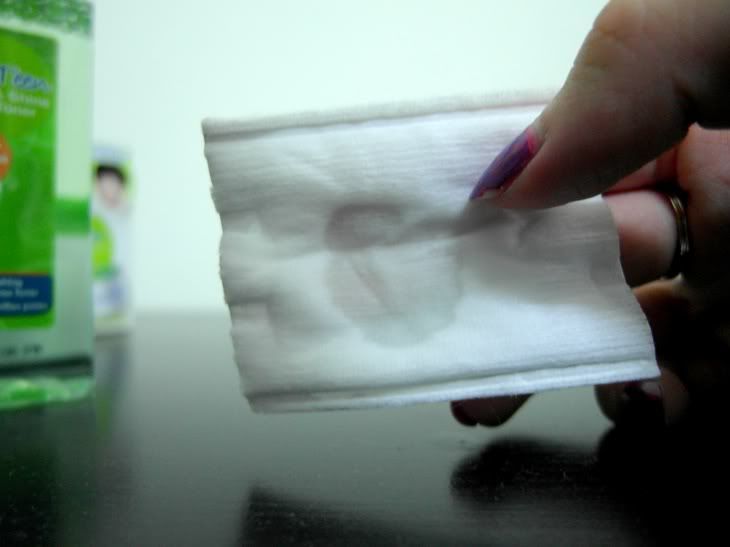 Overall rating: 4.5/5
Again, one thing i really like about it is the scent, and how it makes me skin feel really smooth. The only thing that i didn't like much was that the product took quite awhile to be absorbed, and in the process it felt quite sticky. Furthermore, even though acne prone skin types are supposed to use alcohol based toners, i feel that they can be overly drying sometimes, and this is not the case because its not alcohol based.
(RTP $6.90 for 100ml)
Lastly, I'm going to review the brand new
NuTeen Acne Away Sleeping Mask.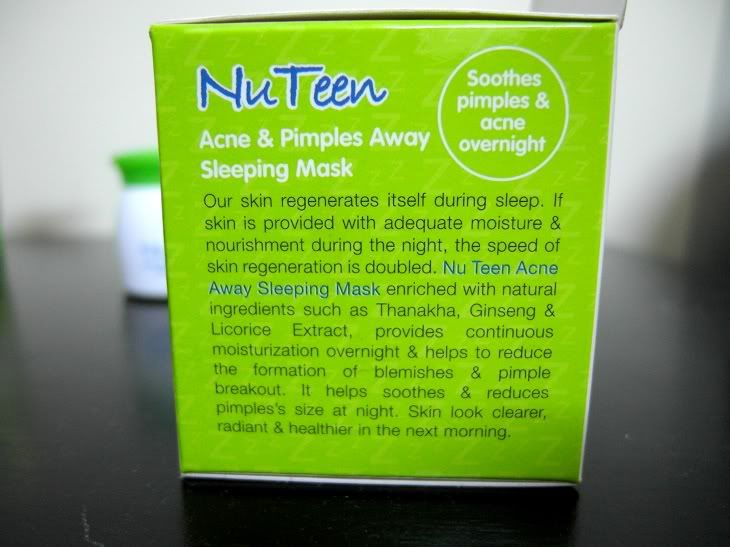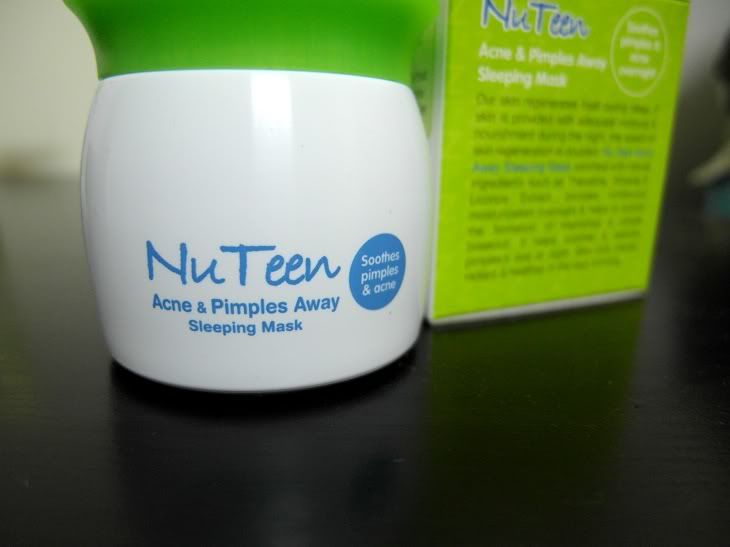 It's quite a pale green milky gel which feels really light and cool on the skin!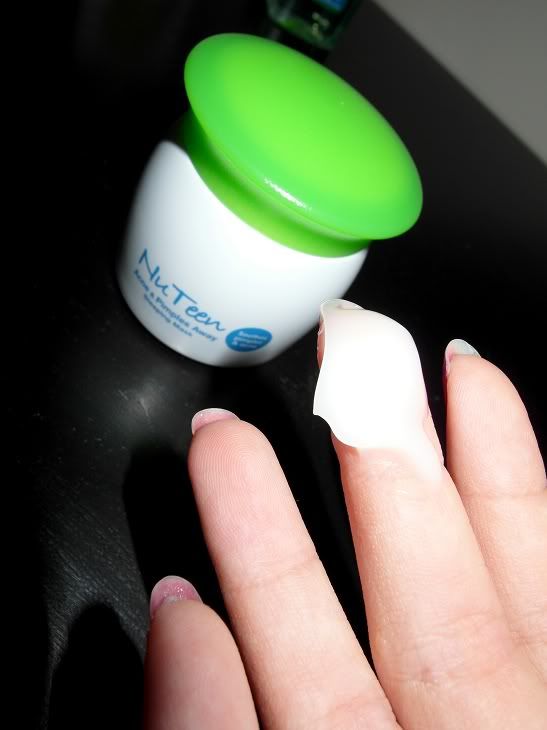 Overall rating: 5/5
I really loved this product because the results were very apparent. Even though i didn't have any pimples during this period when i was trying out the products, the products did help me achieve a smoother complexion!
(RTP $15.90 for 35ml)
LIKE NuTeen facebook to pledge for a blemish free skin today + updates/giveaways : http://www.facebook.com/NuTeen.sg?sk=app_199086803461952