I had previously blogged about being invited by TSS to
Sunsilk's Weather Defence Event
and here is the overview for the entire range of products.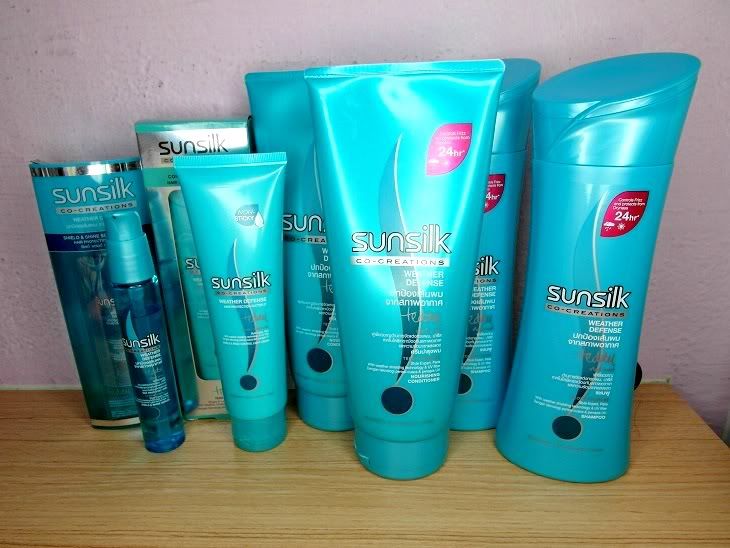 I felt that the whole range of products smelled really similar to one another and that it was a sweet and pleasant floral-y smell and i really liked the scent.
1. Sunsilk Weather Defence Shampoo. (R.T.P: $10.90 for 700ml bottle, and $6.70 for 350ml bottle)
*picture shows 350ml bottle
Purifies hair of pollutants and repairs while it cleanses.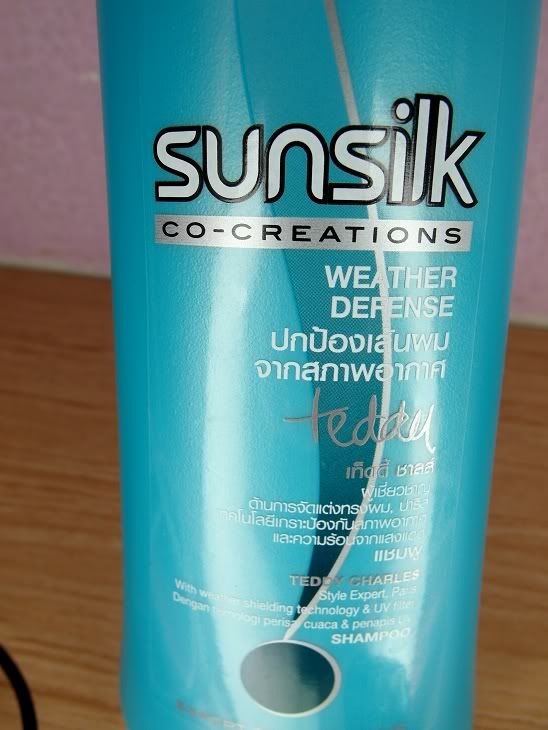 (I'm sure most of us won't understand this, but from the illustrations, it is quite apparent that that is how the 4 steps should go.)
And, ingredients: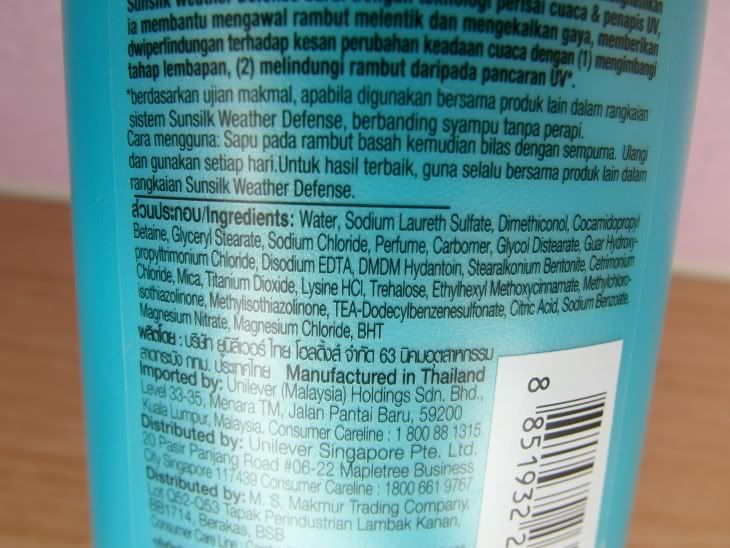 I found that the shampoo lathers up really well, and the scent of the shampoo does linger after the shower. However, it wasn't all that great because my hair would tangle quite a bit while lathering and and does not get smoother immediately after rinsing off.
2. Sunsilk Weather Defence Conditioner. (R.T.P $6.70 for 350ml)
Locks moisture in the shaft, trapping extra proteins and providing a barrier against further damage.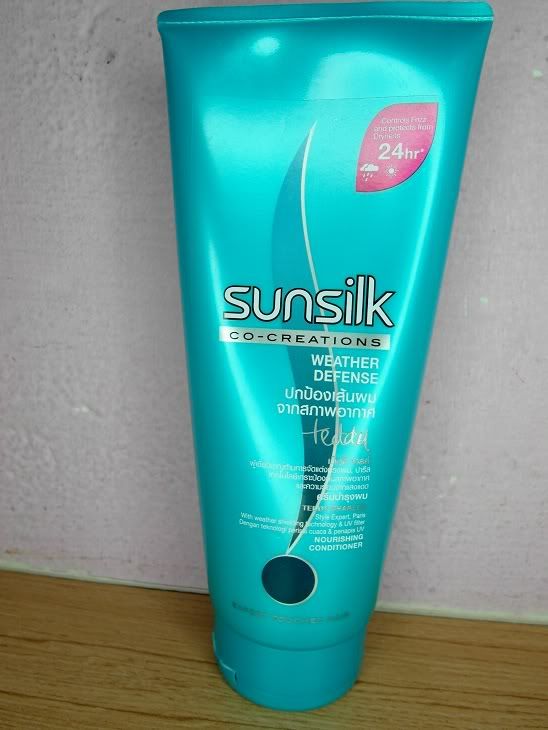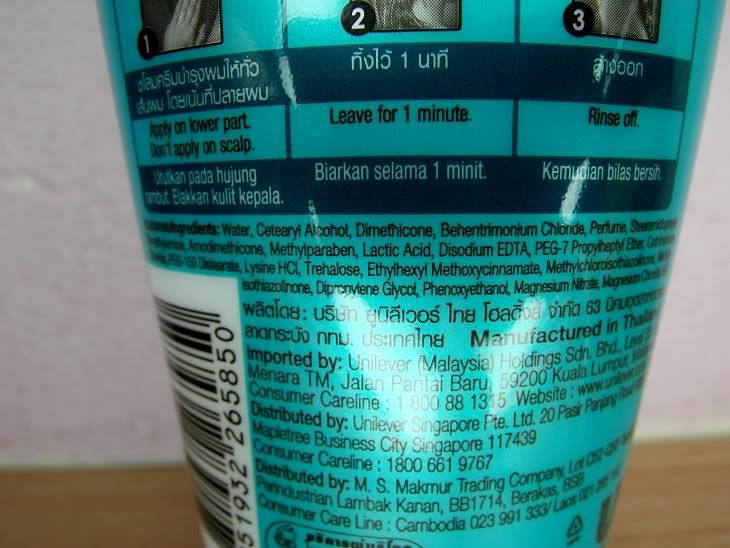 I definitely preferred the conditioner to the shampoo as it untangles and smoothens out my hair almost immediately! After rinising it off, my hair stays silky smooth.
3. Sunsilk Weather Defence Leave On. (R.T.P $6.90 for 120ml)
Features Sunsilk's Smino Acid Shield Technology to coat and protect every strand, without weighing it down.
For use on dry hair, or damp hair before blow-drying. (+ shawn told me this product has heat protecting purposes!)
I really loved the light and watery texture this product has, and the fact that it isn't sticky and absorbs very quickly. The only thing i would have like this to be improved on is that the product comes with a pump instead of the squeeze tube as the product tends over-dispense.
4. Sunsilk Weather Defence Serum (R.T.P $8.25 for 40ml)
Reduces frizz in any weather, leaving hair effortlessly sleek and glossy.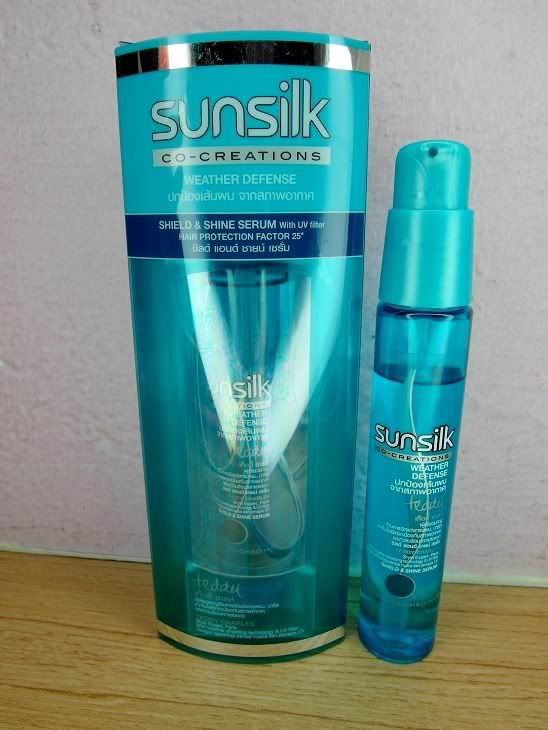 The product in locked position is unable to be pressed. You'll need to turn the pump to be able to dispense the product.
For use on dry hair.
I really really like the light texture of this serum that doesn't weigh down your hair like other oil-based serum do. This serum absorbs into my hair quickly, and gives it a nice shine. (*note shiny but doesn't look greasy.) I really like the fact that the pump can be locked, which makes it able to do without a cap (i hate losing the caps) and still be able to be put into my bag without me having to worry that it'll dispense into my bag.