Hey guys! Sorry for the lack of updates recently. I've been in my rutt again but I just felt like I HAD to get this post up for y'all because I'm so excited about it!!
As you can see, it's another post about my hair colour with my favourite hair stylist, Caely!
Shunji Matsuo Hair Salon @ 313
313 Orchard Road, #03-26, 313 @somerset
Singapore, Singapore 238895
Phone: 6238 0226
*Quote "Blogger Yi Jing" for 10% off all chemical services!
A couple of weeks back, I headed back to the salon at 313 Somerset to get an ash pink colour from the new range of dyes that Caely brought in. It was supposed to turn out like a purple pink colour but for some reason it ended up looking more ashy than pink so it looked like grey with a pink undertone. Caely asked me after I finished with my treatment if the colour was okay, and I decided to keep to it because it created the effect of a very natural soft gradient from brown to grey (purple).
The first picture I tweeted after getting my hair done. Despite the filter, I'm sure you guys can definitely see how well the colours blended into each other.
We then had an event the next day and THE Shunji Matsuo himself (yes, in person) actually complimented the colour, saying it was very unique and hard to achieve! At that point of time I have already gotten loads of compliments about that colour, and this compliment made me soooo happy hahahah. Anyway, here's a shot of the colour:
This was after about 2~3 washes? The undertone doesn't show up well on camera. This is actually one of the dyes from the range of colour used to tone my Blonde Ombre to remove the yellowness, so it was expected to fade very quickly.
Today (or rather, yesterday because this post was published after 12), I went back to get my hair done because the grey has faded. I wanted a similar shade that would last longer but Caely told me it would probably only last a tad longer (maybe up to a month) than the previous colour so I asked her to advise on what other colours she would recommend. She previously remembered that I showed her a picture of this pastel purple colour and asked if I wanted such a colour in pink. I went ahead with her suggestion (I mean, she makes the best decisions for me) and let her remove some of the existing colour in my ombre with very mild bleach.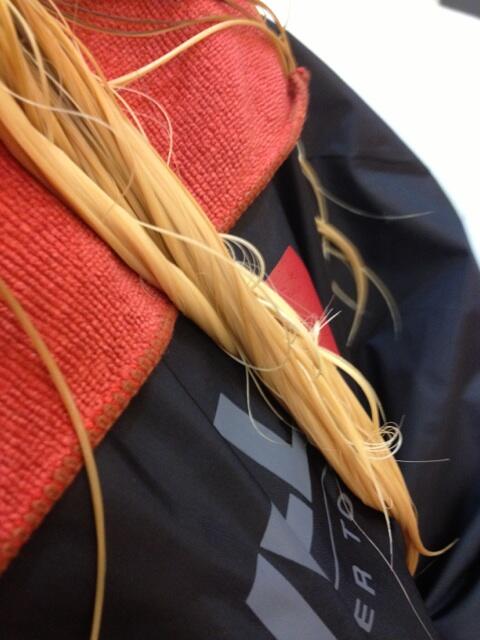 Back to blonde??
Next up, Caely cut out a few strands of my bleached hairs and went to test the colours before asking me which I would prefer. I made my pick and she worked the dye into my hair - she also left it on for longer so that the colours would be more lasting!
Look at this beautiful pastel magenta shade!! I wouldn't mind if I hair turned out this exact colour hahahah.
After treatment and washing the dye out, here's the colour on my hair!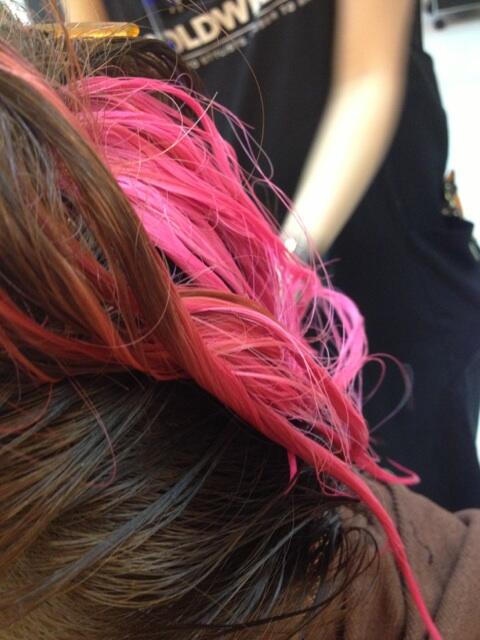 A little blow-drying, curling, and a couple of waterfall braids later..
How to not love Caely and her team at Shunji Matsuo @ 313, you tell me!!
Anyway, the colour is not as light as it seems in the first picture. It's a bubblegummy highlighter pink now (closer to the shade as seen after washing/2nd picture after braiding), which will be expected to fade into the colour as shown. No idea why my camera took the pink in this shade. Just disclaiming in case any of you decides to look to Caely to get my colour and find it different from the picture lol.
I'm super loving this colour now because it also looks a bit coraly. It's a colour that is rather hard to explain, you'll really need to see it in real life to get a gist of it. Thank you Caely and team for working magic on my hair!
Shunji Matsuo Hair Salon @ 313
313 Orchard Road, #03-26, 313 @somerset
Singapore, Singapore 238895
Phone: 6238 0226
*Quote "Blogger Yi Jing" for 10% off all chemical services!